Trends of increasing use of glass in construction have also contributed to the development of fire-resistant glass, which must meet regulations on preventing the spread of fire and providing evacuation exits for users of the facility.
Fire protection regulations are comprehensive, complex and diverse. Standards differ depending on the type and purpose of the building, architecture and method of installation. In any case, national laws and local building regulations must be observed.

In joint cooperation with Pilkington, as our reliable and safe supplier of fire-resistant glass, and with the certification of the Swedish Institute RISE Research Institutes of Sweden AB, RAMA-GLAS performs the processing of fire-resistant glass for indoor and outdoor use in accordance with EN 13501-2.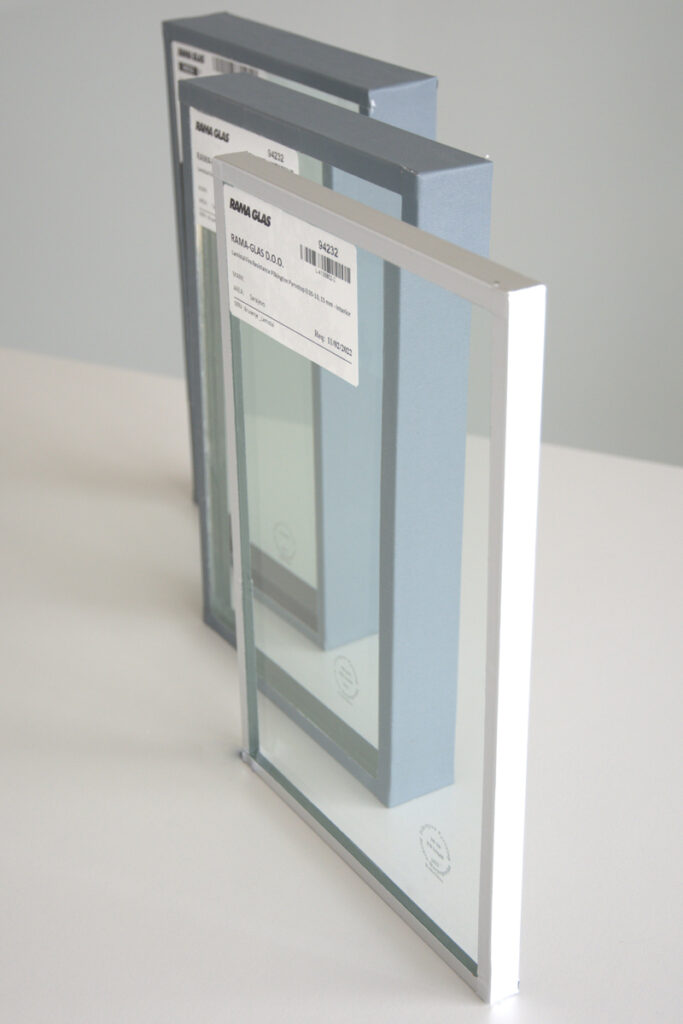 The European standardization of the fire resistance classification contains three classes: E: Pilkington Pyroclear® fire-resistant transparent glass that offers protection against smoke and fire but does not reduce heat transfer to the other side. EW: Pilkington Pyrodur® fire-resistant transparent glass (EW label) that offers improved integrity by creating a barrier to fire, hot gases and smoke (E), reducing heat transfer (W). They are ideal for use on interior partitions and doors leading to an emergency exit where performance is prescribed as a minimum degree of protection.
---
| Important Features | Implementation |
| --- | --- |
| Fire resistance (for glass used in glass glazing intended specifically for fire resistance) | EW 30/E 30EW 30/EI 15EW 30/EI 20EW 60/EI 15EW 60/EI 45EW 60/E 60 |
EI: Pilkington Pyrostop® (EI label) fire-resistant glass that offers complete integrity by creating a resistant barrier to fire, hot gases and smoke (E) and thermal insulation, ie. heat transfer to a protected, safe side (I). This glass can be used for several different purposes and as such provides the maximum degree of protection in accordance with the classification of resistance (30, 60, 90, 120 and 180 minutes). These glasses are ideal for projects with complex security and protection conditions such as: schools, hospitals, stadiums, airports, sports halls, railway stations, etc.)
| Important Features | Implementation |
| --- | --- |
| Fire resistance (for glass used in glass glazing intended specifically for fire resistance) | EI 30EI 60EI 90EI 120EI 180 |
Pilkington Pyrostop® fire-resistant glass is a multilayer glass made of float glass with low iron content (Pilkington Optiwhite™), laminated with special transparent interlayers. When exposed to fire, the glass facing the flame breaks, but remains in place while the intermediate layer immediately foams forming a thick, elastic and solid insulating shield that absorbs energy from the fire.
These three Pilkington fire-resistant glass production lines provide all reliable and cost-effective fire protection solutions.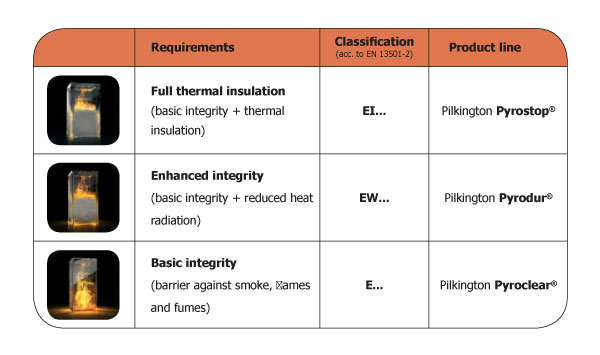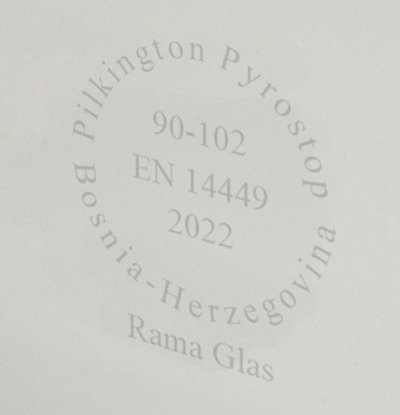 RAMA-GLAS is certified for the processing of the above glasses in accordance with the standards EN 14449:2005/AC:2005 and EN 1279-5:2005+A2:2010. We are able to offer PP glass in monolithic and thermal insulation (two-layer and three-layer) implementation, depending on the place of installation and customer requirements. The glass is designed so that it can be combined with additional functional properties such as burglary resistance, impact resistance, sound insulation, low emissions and solar control.
Each fire-resistant glass has a label with the manufacturer's name, product name, resistance class label, product code and year of manufacture.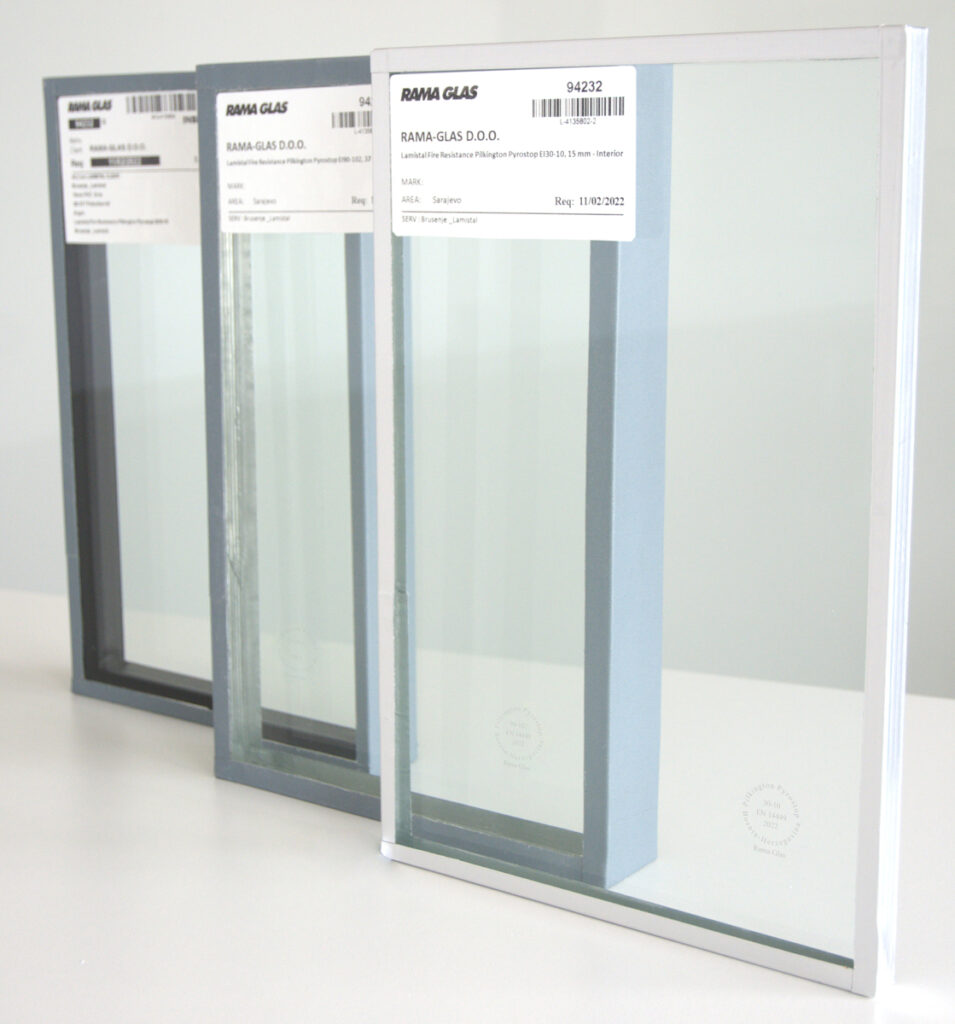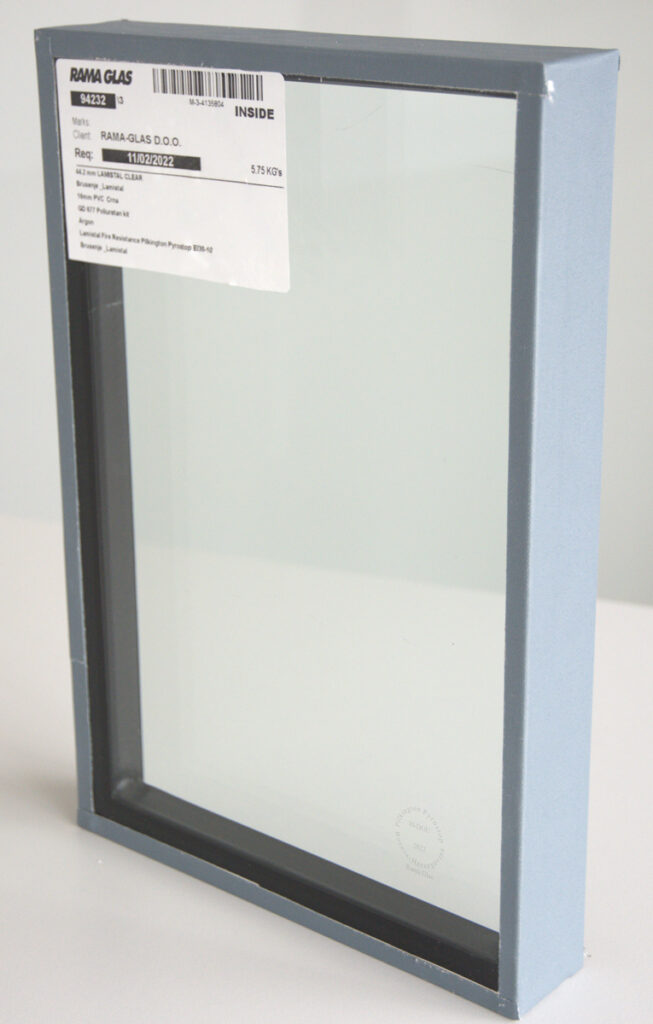 Pilkington Pyrodur® and Pilkington Pyrostop® glasses can, in cooperation with our sister company HANO, be installed in SCHUCO, Jansen, WICONA and Reynears fire protection systems.

Pilkington fire-resistant glass brochure
Download the Pilkington fire-resistant glass brochure for more information.
Enter the required data to download the file.